2021 STATE CONFERENCE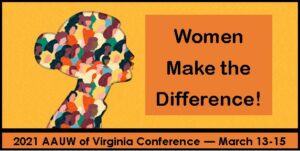 Conference Schedule and Registration Information
The conference is over.  Some of the recordings have been posted.  Scroll below.   Slides from the presenters will be posted soon!
The

Conference Program Book

has everything you need to guide you through the 2021 State Conference & Business Meeting.  It is also a beautiful historical reference for the year 2020-21. 

The

Conference Brochure contains speaker names and descriptions of presentations.  Here is information on the conference speakers:  Speaker Biographies.
RECORDINGS and/or SLIDES FOR DAY 1:
Welcome and Introduction of Woman of Achievement: Leslie Tourigny and Suzanne Rothwell, Co-Presidents
Woman of Achievement, Ana Humphrey
Two Sessions in one recording:
Keynote Address: Women Make a Difference! in U.S. Elections: Assessing Gender and Intersectional Dynamics in Election 2020 and Beyond, presented by Dr. Kelly Dittmar, PhD
What Difference! Does Poverty Make in the Lives of Women?, presented by Dr. Diane Hodge, PhD and Susheela Varky, Esq.  PowerPoint Slides
AAUW of Virginia Women Make the Difference!  presented by Kim Churches, CEO AAUW
RECORDINGS and/or SLIDES FOR DAY 2
Women Make A Difference! in Military Service to Our Country PART 1 and PART 2, Presented by Lieutenant Colonel Marilla Cushman, USA, Retired
Equity in Education Makes the Difference!, presented by Dr. Gregory C. Hutchings, Jr., EdD, Superintendent of the Alexandria City Public Schools  Dr. Hutchings's PowerPoint Slides.
RECORDINGS and/or SLIDES FOR DAY 3
What a Difference! A Virtual Trip to the Booker T. Washington
National Monument Makes, presented by Park Ranger Brittany Webb-Lane
Gender-Based Violence, Institutional Betrayal and the Carceral State presented by Dr. Angela J. Hattery, PhD. and Dr. Earl Smith, PhD.
Contact us you have any questions or problems with the links.