AAUW Legacy Circle Team Liaison
Kristin Moyer
"Like you, I love AAUW. I hadn't really thought about my estate, but the more I heard about the Legacy Circle, the more I wanted to be part of this group of visionary, dedicated supporters who are advancing AAUW's mission long into the future through planned giving."
—Neola Waller
Benefits of Planned Giving
Planned gifts allow you to provide for your family and support AAUW.
Bequests do not affect your cash flow during your lifetime.
Certain planned gifts may reduce estate or capital gains taxes.
There is no minimum gift requirement, and every gift can be tailored to suit your specific wishes.
As you consider what is important to you and how to reflect that in your legacy, we invite you to reach out to AAUW. Our knowledgeable gift planning staff is available to assist with any questions you may have. You may also request a brochure by calling or emailing AAUW's National Office or using the link below.
For assistance, contact Heather Miller at: 202-785-7766 or by email, at millerh@aauw.org or
Speak with Kristin Moyer, AAUW Legacy Circle Team Liaison, kcmoyer65@gmail.com.
For more information, download the brochure here. To enroll, fill out this form.
Growing the Next Generation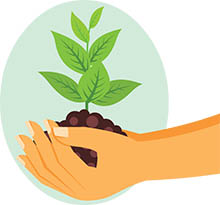 Including AAUW in your estate plans is a lovely way to leave an enduring legacy that will support women and girls long into the future.