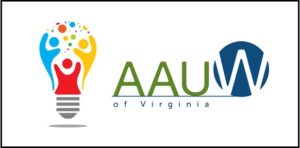 Cyndi Shanahan
 Diversity, Equity, & Inclusion Chair
It is clear that Diversity, Equity, and Inclusion
are vital to AAUW!  It's who we are.
Mission: To advance gender equity for women and girls through research, education and advocacy
Vision:

  Equity for all
Values:

  Nonpartisan. Fact-based. Integrity. Inclusion & Intersectionality.
AAUW's Diversity Statement
In principle and in practice, AAUW values and seeks an inclusive membership, workforce, leadership team, and board of directors. There shall be no barriers to full participation in this organization on the basis of age, disability, ethnicity, gender, gender identity, geographical location, national origin, race, religious beliefs, sexual orientation, or socioeconomic status.
AAUW's call to action in three areas of focus reflect an integrated approach to fulfilling our mission, vision, and value promise. 
AAUW aims to achieve equity through practical solutions in education, workplaces, and communities.