AAUW advances gender equity for women and girls through research, education, and advocacy. 
March: It's Women's History Month!
This March, Get #5WomenYouKnow to Do Work Smart Online!
This Women's History Month, let's make salary inequity a thing of the past. Do you have a friend or family member who is applying for a new job or promotion and worried about how to ask for fair pay? Join AAUW in getting five women you know to sign up for Work Smart Online, our free salary negotiation course that teaches women how to ask for the salary and benefits they deserve. And encourage them to tell five women they know, too! Visit salary.aauw.org to get started and show us how you're spreading the word by using the hashtag #5WomenYouKnow on social media.

Congratulations to our 2019 artists!
Every year, AAUW members vote on the final candidates to be featured in the spring collection of note cards.  You can see all the winners at https://www.aauw.org/contests/ .
AAUW Smith Mountain branch's Cynthia Kollman won with an entry called "Little Ballerinas".

Voting Dates: April 13- May 4


AAUW of Virginia 2019 Conference
Saturday, April 6, 2019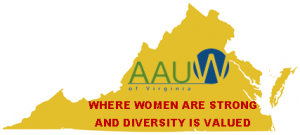 With optional activities Friday evening April 5
Roanoke Valley
Online Registration and Information at "Conference" on the menu bar above.

Northern District Meeting April 13, 2019


See all the ERA activities and events under About: AAUW News
              
Men, their rights, and nothing more;  women, their rights, and nothing less.                                                                                                                                                   __Susan B. Anthony


AAUW WORK SMART ONLINE IS HERE!
Learn to negotiate your salary NOW!

National Members!
We appreciate your membership and encourage you to attend upcoming events at an AAUW branch in your neighborhood. Click on Branches for information about a branch near you.