AAUW advances gender equity for women and girls through research, education, and advocacy. 
AAUW-VA ranks 4th in the nation in per capita giving to AAUW Funds.  See the latest Funds report plus the Names Honored from each branch HERE.

AAUW 2020 Vision: Marking a Momentous Year
Stay in touch with AAUW!  View a variety of engaging webinars HERE.
AAUW: STANDING STRONG THROUGH  CRISIS
AAUW has been at the cutting edge of fighting for economic equity for nearly 140 years. And what we're witnessing is how the pandemic is amplifying and exacerbating all of the nation's inequities.
The issues we've long been fighting for are now alarmingly urgent, and our efforts are needed now more than ever. READ MORE...






The program is designed to promote cohesion between AAUW national and affiliates and increase understanding and implementation of the strategic plan goals. National recognition allows AAUW National to acknowledge and celebrate affiliates that advance AAUW's mission.


Learn to negotiate your salary NOW! LEARN MORE HERE! 
Why does it matter?
The pay gap has lifelong financial effects that grow over time, from the ability to pay for education and childcare to saving for retirement, impacting women in nearly every profession. The Work Smart program teaches women at all stages of their career how to negotiate their pay, resulting in improved financial futures for themselves and their families.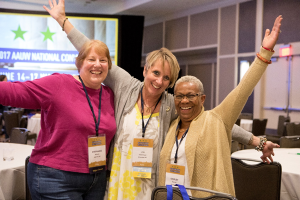 GREAT NEWS: Did you read the latest Mission & Action?  AAUW, in partnership with Coca-Cola, exceeded the goal of training 100,000 women to ask for the salary they deserve through Work Smart  online or in-person workshops!  During the process, 500 professional organizations, and state and local commissions were engaged. Now the program is being expanded through women.nyc, Starbucks Global, the city of Wichita and many others.Thank you to all AAUW members who participated!
Continue sharing with everyone you know! 
Print this WorkSmart flyer created by the Reston-Herndon Branch to post in your community for all to see!
Take the course yourself to be able to talk about it!

AAUW of Virginia is dedicated to Creating a Feeling of Belonging for all within our branches.  Find information, resources, activities and more on the menu bar above:

Diversity and Inclusion

National Members!
We appreciate your membership and encourage you to attend upcoming events at an AAUW branch in your neighborhood. Click on Branches for information about a branch near you.