AAUW advances gender equity for women and girls through research, education, and advocacy. 

Over the past
140

years, AAUW has evolved to become the leading voice in advancing gender equity in education and workplaces everywhere. Through research, education and advocacy, we're committed to ensuring that everyone gets the same opportunity to learn, earn and lead. But our work is only possible because of our committed members and donors. Thank you for your support. There would be no AAUW without you.
CELEBRATE WITH US!


In the art world women are underrepresented and undervalued. Only a third of artists represented by commercial galleries are women and women working in arts professions are paid on average 74 cents to every dollar paid to men. This is what motivates AAUW to host an annual art contest—to give women artists the attention they deserve.
Entries for the 2022 art contest will be open from January 5 to January 31.
Voting will be open from February 2 to February 16.
The six winning entries will be featured in a collection of notecards mailed to AAUW members in the spring!  CLICK HERE for contest entry rules and guidelines.
Janet Hedrick from the Mt. Vernon Branch has submitted the two photographs below. Has anyone else submitted art for the AAUW Art Contest?

Save the date! Click HERE for updates and to register.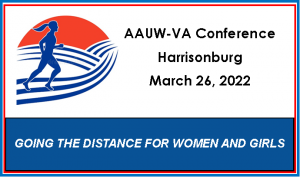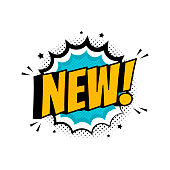 AAUW Initiates Weekly Branch Leader and AAUW Staff Meetings to Respond to Questions
Learn More: Connect2AAUW Virtual Office Hours




When it comes to economic security, many women face significant challenges. A racial wealth gap and a wider-than-average gender wage gap make it difficult for many to get on firm financial footing. AAUW's new series of free virtual workshops is aimed at supporting women at Historically Black Colleges and Universities, Women's Colleges and Minority Serving Institutions. Our goal is to help you budget, save and plan for the future.  Learn More.

An opinion piece by Smith Mountain AAUW member Tica Simpson was published in the Roanoke Times! 

Read it here.


The Gender Pay Gap
No matter how you analyze it, the gender pay gap is real, persistent and harmful to women's financial well-being.  GET THE FACTS.
When women get equal pay — and equal opportunity — they, their families and all of society will thrive. To get there, we need to embrace diversity, equity and inclusion. LEARN MORE.
We need to update our laws to ensure all workers can take home a fair paycheck, and the Paycheck Fairness Act is one big piece of legislation aimed at just that. We must call on all elected officials to listen to voters, who overwhelming support pay equity, and work to pass this important bill. And it must happen now.
Urge your senators to do their part by supporting the Paycheck Fairness Act today!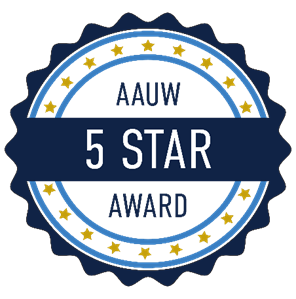 During 2019-2021 Virginia was awarded 46 STARS!  Now for 2022-2023  we a excited to announce the following new award.  
TWO STARS             Virginia Beach  
The new 2021-2022 AAUW Five-Star Recognition Program commenced on July 1, 2021.  Find more information below.
AAUW of Virginia: 5-Star State!



Racial Equity:  BE A PART OF THE SOLUTION

 
Find information, resources, activities and more on the menu bar above: "Diversity, Equity, and Inclusion" or directly on our Diversity, Equity, and Inclusion page here.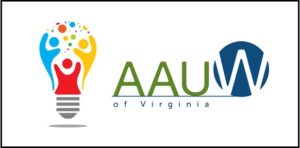 Catch up on recent webinars!
AAUW is committed to staying connected during these difficult times, so we're providing regular webinar content for our communities. National staff and outside experts bring you engaging programming on the issues most important to you. Check out the  recordings from past webinars and look out for news of upcoming online events!
 View a variety of engaging webinars HERE.


Learn to negotiate your salary NOW! LEARN MORE HERE! 
Why does it matter?
The pay gap has lifelong financial effects that grow over time, from the ability to pay for education and childcare to saving for retirement, impacting women in nearly every profession. The Work Smart program teaches women at all stages of their career how to negotiate their pay, resulting in improved financial futures for themselves and their families.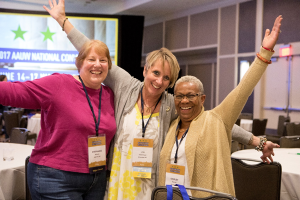 Continue sharing with everyone you know! 
Print this WorkSmart flyer created by the Reston-Herndon Branch to post in your community for all to see!
Take the course yourself to be able to talk about it!

National Members!
We appreciate your membership and encourage you to attend upcoming events at an AAUW branch in your neighborhood. Click on Branches for information about a branch near you.