AAUW advances gender equity for women and girls through research, education, and advocacy. 
Celebrating Over 140 Years and Looking Ahead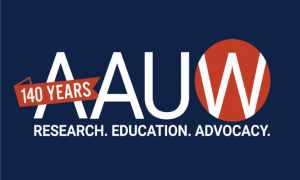 AAUW Lobby Corps is Back!!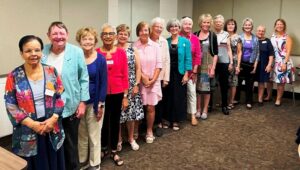 After 3 years of absence, AAUW Lobby Corp was back on the hill, Thursday, July 27, 2023.  There were 14 members, many from Virginia. 
Here's an update on their efforts from Meghan Kissell,  AAUW Senior Director, Policy & Member Advocacy:
One of our partners just reported on a call that they were speaking to the office of Rep. Harder who told them our members were in earlier and they were going to talk to the Congressman as soon as possible. We have also seen 15 more members of Congress sign the petition to discharge the ERA vote on H.J. Res. 25 from committee (this brings us to 181 petition-signers!). Such a wonderful testament to the value of Lobby Corps! The next step on this issue is that we'll be working with our State and Branch Public Policy Chairs around the country to continue this ask over the August recess.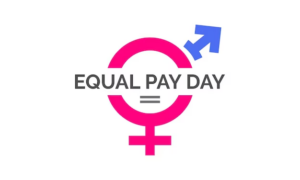 EQUAL PAY DAY 2023. This symbolic day denotes how far into the year women must work to be paid what men were paid the previous year. Equal Pay Day 2023 was on March 14 to represent the current state of the gender pay gap: 83% for full-time workers and 77% for all workers (including part-time and seasonal)
LGBTQIA+ Equal Pay Awareness Day was June 15. Without enough data to make calculations, this day raises awareness about the wage gap experienced by LGBTQIA+ folks.
Black Women's Equal Pay Day was July 27. Black women are paid 67% and 64% of every dollar paid to white men.
Moms' Equal Pay Day was August15. Moms are paid 74% and 62% of every dollar paid to dads.
Latina's Equal Pay Day was October 5. Latinas are paid 57% and 54% of every dollar paid to white men.
Native Women's Equal Pay Day is November 30. Native women are paid 57% and 51% of every dollar paid to white men.
Asian American, Native Hawaiian and Pacific Islander Women's Equal Pay Day is TBD. Asian American and Pacific Islander women are paid 92% and 80% of every dollar paid to white men.

Is AAUW new to you? 
Welcome!  Learn about AAUW National HERE.  Keep scrolling/clicking on these pages to learn about AAUW of Virginia. Find Virginia branches HERE.  Contact us and we will respond quickly!
You don't have to be an AAUW member to become a             Two-Minute Activist!
With our online Two-Minute Activist tool, it takes just minutes and an internet connection to make your voice heard on issues impacting women and girls!  You will receive AAUW's Action Network's urgent e-mail notices and text messages when your advocacy is needed most.

The wage gap for many women of color is not only wider than the overall gender wage gap, but it is also closing more slowly. Read more HERE.
Imagine having to work seven extra months just to earn the same pay as a male co­-worker.  Read the research from AAUW: Systemic Racism and the Gender Pay Gap. (A supplement to The Simple Truth)

Honoring 50 Years of Title IX!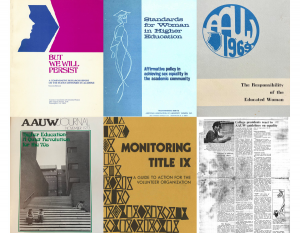 With 37 words, Congress changed the face of education. Title IX of the Education Amendments of 1972 states: "No person in the United States shall, on the basis of sex, be excluded from participation in, be denied the benefits of, or be subjected to discrimination under any education program or activity receiving Federal financial assistance."


Don't forget, if you need answers, attend AAUW Virtual Office Hours!
AAUW Branch Leader and AAUW Staff Meetings to Respond to Questions
Our virtual "office hours" are a unique way to share feedback with AAUW National staff and get real-time answers to your questions.  Full Tuesday and Thursday sessions will resume the week of September 11, 2023.
Learn More: Connect2AAUW Virtual Office Hours


When it comes to economic security, many women face significant challenges. A racial wealth gap and a wider-than-average gender wage gap make it difficult for many to get on firm financial footing. AAUW's new series of free virtual workshops is aimed at supporting women at Historically Black Colleges and Universities, Women's Colleges and Minority Serving Institutions. Our goal is to help you budget, save and plan for the future.  Learn More.


The Gender Pay Gap
No matter how you analyze it, the gender pay gap is real, persistent and harmful to women's financial well-being.  GET THE FACTS.
When women get equal pay — and equal opportunity — they, their families and all of society will thrive. To get there, we need to embrace diversity, equity and inclusion. LEARN MORE.
We need to update our laws to ensure all workers can take home a fair paycheck, and the Paycheck Fairness Act is one big piece of legislation aimed at just that. We must call on all elected officials to listen to voters, who overwhelming support pay equity, and work to pass this important bill. And it must happen now.
Urge your senators to do their part by supporting the Paycheck Fairness Act today!


Racial Equity:  BE A PART OF THE SOLUTION

 
Find information, resources, activities and more on the menu bar above: "Diversity, Equity, and Inclusion" or directly on our Diversity, Equity, and Inclusion page here.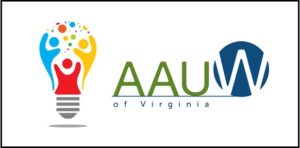 Catch up on recent webinars!
AAUW is committed to staying connected during these difficult times, so we're providing regular webinar content for our communities. National staff and outside experts bring you engaging programming on the issues most important to you. Check out the  recordings from past webinars and look out for news of upcoming online events!
 View a variety of engaging webinars HERE.


Learn to negotiate your salary NOW! LEARN MORE HERE! 
Why does it matter?
The pay gap has lifelong financial effects that grow over time, from the ability to pay for education and childcare to saving for retirement, impacting women in nearly every profession. The Work Smart program teaches women at all stages of their career how to negotiate their pay, resulting in improved financial futures for themselves and their families.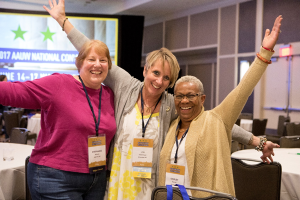 Continue sharing with everyone you know! 
Take the course yourself to be able to talk about it!

National Members!
We appreciate your membership and encourage you to attend upcoming events at an AAUW branch in your neighborhood. Click on Branches for information about a branch near you.