AAUW advances gender equity for women and girls through research, education, and advocacy.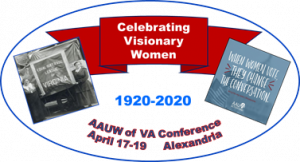 The AAUW-VA Conference Brochure is available!  Read all about the 2020 State Conference in Alexandria, April 17-19, in Alexandria. 
Click on "Conference" on the navigation bar above and register now.
Use the AAUW-VA 2020 Voting Guide to help you make decisions when your ballot arrives via email, April 26.

 January 28 was the inaugural webinar in AAUW's 2020 convening series. It covered our equity priorities for this year at the federal, state and local levels. Listen to a recording of the webinar

HERE 
The next Convening Webinar will be April 14, 2020.  Watch for emails with details.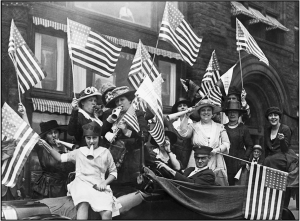 The Mt. Vernon Branch Celebration has been shared! 
Suffragist photo: https://www.theatlantic.com/photo/2019/06/the-battle-for-womens-suffrage-in-photos/591103/

Dedication of the Virginia Women

'

s Monumen

t
October 14, 2019, Richmond
AAUW VA was there! Read all about it:


AAUW VA was there! 
October 14-15, Greater Richmond Convention Center
"Well-behaved Women Seldom Make History"
Left to right:: Nancy Warren, Denise Murden, Carol Stephens, Dulce Lawrence, Cheryl Spohnholtz, Jane Newell


The program is designed to promote cohesion between AAUW national and affiliates and increase understanding and implementation of the strategic plan goals. National recognition allows AAUW National to acknowledge and celebrate affiliates that advance AAUW's mission.

Summer Leadership Presentations have moved to "About>Recent News" on the Menu Bar!



Learn to negotiate your salary NOW! LEARN MORE HERE! 
Why does it matter?
The pay gap has lifelong financial effects that grow over time, from the ability to pay for education and childcare to saving for retirement, impacting women in nearly every profession. The Work Smart program teaches women at all stages of their career how to negotiate their pay, resulting in improved financial futures for themselves and their families.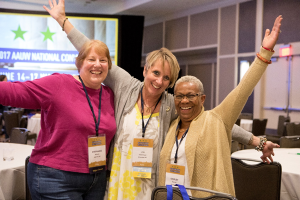 GREAT NEWS: Did you read the latest Mission & Action?  AAUW, in partnership with Coca-Cola, exceeded the goal of training 100,000 women to ask for the salary they deserve through Work Smart  online or in-person workshops!  During the process, 500 professional organizations, and state and local commissions were engaged. Now the program is being expanded through women.nyc, Starbucks Global, the city of Wichita and many others.Thank you to all AAUW members who participated!
Continue sharing with everyone you know! 
Print this WorkSmart flyer created by the Reston-Herndon Branch to post in your community for all to see!
Take the course yourself to be able to talk about it!


2020 State Conference

will be held at the Holiday Inn & Suites Alexandria-Old Town, 625 First Street in Alexandria, from April 17-19, 2020. 
Click on "Conference"  on the Menu Bar at the top and
RESERVE YOUR ROOM NOW!

2020 AAUW VIRTUAL CONVENING
AAUW  announces plans for a series of virtual events in 2020 that will mark the 100th anniversary of women's right to vote, inform our members and supporters in a critical presidential election year, and move us all closer to a fully fair future for women and girls.
CLICK HERE TO LEARN ALL ABOUT IT.


AAUW of Virginia is dedicated to Creating a Feeling of Belonging for all within our branches.  Find information, resources, activities and more on the menu bar above:

Diversity and Inclusion

National Members!
We appreciate your membership and encourage you to attend upcoming events at an AAUW branch in your neighborhood. Click on Branches for information about a branch near you.