AAUW advances gender equity for women and girls through research, education, and advocacy. 
Our Co-Presidents have an article in the Richmond Times Dispatch February 19, with this headline:
Stephens and Tourigny column: One man blocks gender equality. Democracy requires debate and a vote.  READ HERE.


AAUW was there for the ERA Rally February 14, in Richmond!  The photo below shows a few of us.  Carol Stephens, state Co-President is on the far left.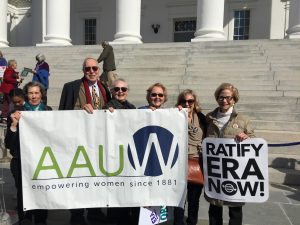 Northern District Meeting April 13, 2019

AAUW of Virginia Reception Celebrating the Women of the Virginia General Assembly, February 6, and Lobby Day February 7 in  Richmond
What a great two days in Richmond!  The Reception for the Women of the General Assembly was lovely with 11 legislators and/or aides attending, along with many AAUW of Virginia members who came to attend Lobby Day, as well.  Kate Nielson, AAUW State Policy Counsel, was there and spoke about AAUW's priorities and trends that are occurring around the country.  This was a  larger group than last year, so we were proud.  Thanks to the Greater Richmond Branch, Co-VPs for Public Policy Susan Burk and Sylvia Rogers, and the other state board members who assisted in the preparation for this reception. 
LOBBY DAY on February 7 was hugely successful!  Twenty four AAUW of Virginia members from around the state distributed packets of information on the pay gap, family medical leave, fair redistricting and helping the victims of human trafficking.  We were able to speak to a record number of legislators or aides since there were fewer other groups visiting on this day. 

Some of our participants on February 7: (L to R) Patsy Quick (Mt. Vernon), Becky Gaul (Falls Ch), Pam Martinov (Falls Ch), Ann Sauberman (Springfield Annandale) Susan Burk (Springfield Annandale) Sara Anderson (Arlington) Irene McGhee (Springfield Annandale), Kitty Richardson (Falls Ch)                    Barbara Woodlee (VA Bch)


AAUW of Virginia 2019 Conference
Saturday, April 6, 2019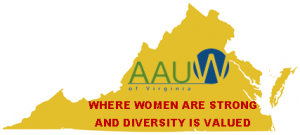 With optional activities Friday evening April 5
Roanoke Valley
Online Registration and Information at "Conference" on the menu bar above.

AAUW's 2018 Year in Review and AAUW of Virginia's Unfinished Business (ERA Booklet) 

have moved to the Resource Library.

  

    
              
ERA is not going away!   Let's make history in the 2019 General Assembly!
Men, their rights, and nothing more;  women, their rights, and nothing less.                                                                                                                                                   __Susan B. Anthony


AAUW VA Distributes "Unfinished Business to Legislators in Richmond, January 16, 2019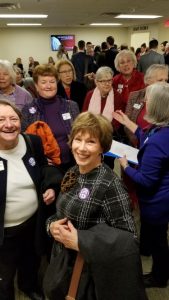 Twenty AAUW VA members delivered "Unfinished Business" to all legislators in the Virginia General Assembly, urging them to ratify the ERA.  It was an exciting morning!  Many members visited their own legislators afterwards, to thank them for supporting the ERA or to urge them to give support.


AAUW WORK SMART ONLINE IS HERE!
Learn to negotiate your salary NOW!

National Members!
We appreciate your membership and encourage you to attend upcoming events at an AAUW branch in your neighborhood. Click on Branches for information about a branch near you.