AAUW advances gender equity for women and girls through research, education, and advocacy. 
The Campaign for the Ratification of the ERA in Virginia is in full swing!  
BE INFORMED!
Hot off the presses!  AAUW of VA ERA Booklet, Unfinished Business, is ready to be shared.
Print and distribute at branch events or activities!
Visit these websites to learn more:
Here is an interesting TED talk concerning the need for the ERA.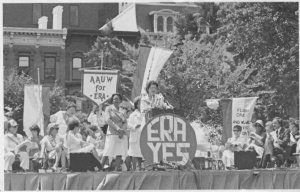 It's time, Virginia!  Let's make history in the 2019 General Assembly!  
Men, their rights, and nothing more;  women, their rights, and nothing less.                                                                                                                                                   __Susan B. Anthony

AAUW-VA encourages members to write Letters-to-the-Editor regarding the ratification of the ERA in Virginia.  Click Here to read some of the ones already published.
Maybe you can use them to help you write one of your own!

FEDERAL LOBBY DAY IN WASHINGTON, DC WAS SEPTEMBER 27
There were 27 members who participated in the Virginia Lobby Corp day on September 27.
We were divided into 16 "teams" of 2 or 3 persons, each with at least 1 experienced regular Lobby Corp member.  We were each given 6 senators to visit and a letter from AAUW giving the reasons why AAUW opposes Judge Kavenaugh's nomination which were substantiated by documented evidence why we should be concerned about his record on women's, and other, issues at the core of AAUW's public policy priorities.
Much appreciation to Marcy Leverenz, from the Springfield-Annandale Branch, and Pam Yuen, from the AAUW National office for coordinating this effort.
    NORTHERN  DISTRICT MEETING
      Saturday, October 20th
Burke Centre Library, 5935 Freds Oak Rd., Burke, Virginia
     

Gather at 1:30.  Program will begin promptly at 2:00. This is a time change from the information in the details!
SOUTHEAST DISTRICT MEETING, OCTOBER 27, SUFFOLK

National Members!
We appreciate your membership and encourage you to attend upcoming events at an AAUW branch in your neighborhood. Click on Branches for information about a branch near you.

Summer Leadership Meeting July 28, 2018    Harness the Energy!
Fifty-four energetic AAUW members from 17 branches in Virginia participated in the Summer Leadership Meeting (SLM) in Harrisonburg.  The meeting was held at the brand new Madison Hotel and Shenandoah Valley Conference Center.  It was one of the best SLMs ever!  All sessions were "whole group" because the information provided by every speaker was vitally important has we move forward in AAUW.  The Mayor of Harrisonburg, Deanna R. Reed set the tone perfectly as our keynote speaker.  She was fabulous!  Here are the important topics that were addressed during the day.
What's New in AAUW...Caroline Pickens, AAUW Governance Committee & AAUW-VA Funds Chair
AAUW-VA Public Policy A Path Forward and the Equal Rights Amendment…Susan Burk & Sylvia Rogers, AAUW-VA Co-VPs for Public Policy
ERA in Virginia Today

…Jane

Newell & Trish Wallace, Greater Richmond Branch AAUW
Equity in Education for Women and Girls: Title IX…Deb Fitzgerald, Chair of Harrisonburg City School Board and member of AAUW, & Heidi Hoover, Title IX Coordinator, Bridgewater College
Gender Pay Inequity: It's Math, Not Myth…Sylvia Rogers, Co-Vice President for Public Policy
Salary Negotiation…Leslie Tourigny, Co-President AAUW-VA
Archiving Branch Documents…Neola Waller, AAUW Legacy Circle Team, AAUW-VA Historian, & Virginia Beach AAUW President
IF YOU MISSED THE MEETING, CHECK OUT THE PHOTOS HERE!
Find other resources from the Summer Leadership Meeting in the Resource Library.