AAUW advances gender equity for women and girls through research, education, and advocacy. 


On the 25th anniversary of the landmark case in which the Supreme Court of the United States in a 7-1 decision struck down the male-only admissions policy of the Virginia Military Institute with Justice Ruth Bader Ginsburg writing for the majority, AAUW of Virginia makes a statement. READ THE STATEMENT



Equal Pay Day: A Symbolic Date
Equal Pay Day denotes how far into the new year women must work to be paid what men were paid the previous year. Started by the National Committee on Pay Equity (NCPE) in 1996, the goal was to raise awareness about the gender wage gap. Since then, other Equal Pay Days have been added to the calendar to denote that mothers and most women of color face a wider-than-average gap and need to work even longer to catch up to men's earnings.
Black Women's Equal Pay Day is August 3. Black women are paid 63 cents for every dollar paid to white men.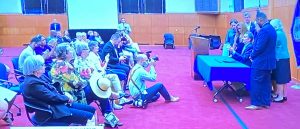 Greater Richmond AAUW at Bill Signing!
June 1st four members of the Greater Richmond AAUW attended the signing of bill SB2137 by Governor Northam, something that AAUW and other organizations have felt was a priority. This bill requires employers to provide paid sick leave to home health workers who provide personal care, respite, or companion services to an individual who receives consumer-directed services under the state plan for medical assistance services. The bill has been watered down since inception but it is an important first step.
Attending were Carol Stevens, Barb Strohman, Laura Wimmer, and Kathy Kelley.



AAUW-VA 2021 Conference Information and Conference Program Book is posted under "Conference" above or HERE.  Recordings of the presentations have been posted.  

Congratulations to the nine Virginia branches that received stars in the AAUW Five Star National Recognition Program during 2020-21.  Virginia is leading the way with branch participation in the Five Star Program.
FIVE STARS – Virginia Beach, Reston-Herndon Area, Woodbridge, and Springfield-Annandale
FOUR STARS – Alexandria, Vienna Area, and Mt. Vernon
TWO STARS  – Suffolk
ONE STAR – Fairfax City
AAUW of Virginia: 5-Star State!

 AAUW of Virginia has been awarded FIVE stars for Advancement, Communications & External Relations, Public Policy & Research, Programs, and Governance and Sustainability. AAUW of Virginia is the first state to receive stars under the Recognition Program. Many thanks to all who contributed so much time and effort to achieving mission-based goals for AAUW over the past year.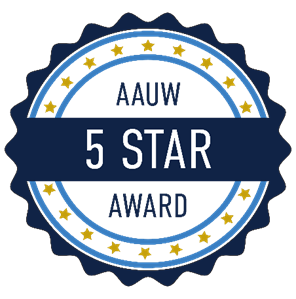 We are featured in the January 2021 issue of AAUW Membership Matters! Read the article.


Racial Equity:  BE A PART OF THE SOLUTION

 
Find information, resources, activities and more on the menu bar above: "Diversity, Equity, and Inclusion" or directly on our Diversity, Equity, and Inclusion page here.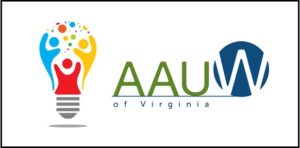 Catch up on recent webinars!
AAUW is committed to staying connected during these difficult times, so we're providing regular webinar content for our communities. National staff and outside experts bring you engaging programming on the issues most important to you. Check out the  recordings from past webinars and look out for news of upcoming online events!
 View a variety of engaging webinars HERE.
AAUW: STANDING STRONG THROUGH  CRISIS
AAUW has been at the cutting edge of fighting for economic equity for nearly 140 years. And what we're witnessing is how the pandemic is amplifying and exacerbating all of the nation's inequities.
The issues we've long been fighting for are now alarmingly urgent, and our efforts are needed now more than ever. READ MORE...



The program is designed to promote cohesion between AAUW national and affiliates and increase understanding and implementation of the strategic plan goals. National recognition allows AAUW National to acknowledge and celebrate affiliates that advance AAUW's mission.


Learn to negotiate your salary NOW! LEARN MORE HERE! 
Why does it matter?
The pay gap has lifelong financial effects that grow over time, from the ability to pay for education and childcare to saving for retirement, impacting women in nearly every profession. The Work Smart program teaches women at all stages of their career how to negotiate their pay, resulting in improved financial futures for themselves and their families.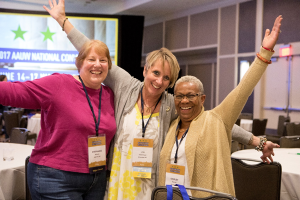 GREAT NEWS: Did you read the latest Mission & Action?  AAUW, in partnership with Coca-Cola, exceeded the goal of training 100,000 women to ask for the salary they deserve through Work Smart  online or in-person workshops!  During the process, 500 professional organizations, and state and local commissions were engaged. Now the program is being expanded through women.nyc, Starbucks Global, the city of Wichita and many others.Thank you to all AAUW members who participated!
Continue sharing with everyone you know! 
Print this WorkSmart flyer created by the Reston-Herndon Branch to post in your community for all to see!
Take the course yourself to be able to talk about it!

National Members!
We appreciate your membership and encourage you to attend upcoming events at an AAUW branch in your neighborhood. Click on Branches for information about a branch near you.