AAUW advances gender equity for women and girls through research, education, and advocacy. 



Find the dates and links for voting that you need here.


AAUW of Virginia endorses a YES vote on Amendment 1 to end Partisan Gerrymandering



With heavy hearts, we mourn the loss of over 200,000 Americans to COVID-19. Along with those lost to the pandemic, we also grieve the passing of Supreme Court Justice Ruth Bader Ginsburg. We hold her memory as an inspiration to continue her life's work: fighting for gender equity and representation everywhere. For now, to honor her, the most important thing you can do is vote.
While Election Day is just six weeks away, adapted voting processes this election year means that every day is Election Day. To mark National Voter Registration Day tomorrow, we ask you to make a plan to vote. With a critical election year taking place during a pandemic, our democracy needs you to work to motivate your community. Before you head to the polls or mail that ballot, help us reach as many eligible voters as possible with three easy Get Out the Vote (GOTV) actions:
1.    Make your own plan to vote.
2.    Use our GOTV Social Media Toolkit to share what you learned.
3.    Call five friends & family to ask them to commit to vote.
Studies show that voters who make a plan, including figuring out how and where to vote, are more likely to follow through. With so many traditional voter registration opportunities on pause, every effort online will help.
Elected and appointed officials routinely make decisions about issues that directly impact all of us. From our paychecks to paid leave, access to reproductive health care to access to education, our lives are on the line—and our vote is our voice.
Our democracy works when everyone can fully participate—honor Justice Ginsburg by motivating voters in your community today!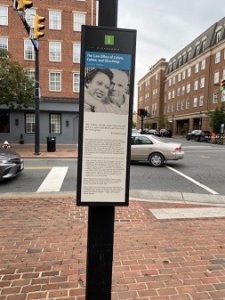 (9/25/20) The City of Alexandria Announces the Installation of Panels Recognizing the Loving v. Virginia Supreme Court Decision and the Law Firm of Cohen, Cohen, and Hirschkop 
The City of Alexandria is delighted to announce the installation of a new interpretive kiosk by the Office of Historic Alexandria, commemorating the Loving v. Virginia Supreme Court decision legalizing interracial marriage throughout the United States, and the Law Firm of Cohen, Cohen, and Hirschkop, which represented the Lovings. The law firm was located at 110 N. Royal St. the day the decision was announced.
The panels are located at the corner of King and Royal Streets.  READ MORE.



Dear AAUW Members,
During this troubling time in our nation's history, I hope you are being kind to yourself and others. It feels almost unbearable to witness the anger and anguish erupting in our cities as we also endure a relentless pandemic and economic downfall. The murder of George Floyd serves as a tragic reminder of centuries of racism, violence and lack of humanity for Black people. We join the country in mourning his loss as well as the deaths of Ahmaud Arbery, Breonna Taylor and countless other people of color who have been unjustly killed.
But while we are deeply sad, we mustn't feel helpless. Now is the time to fight for justice. Here are some suggestions for how to move forward:
Listen: Understand that many Black and Brown people are struggling with enormous pain and despair. Open your hearts to them and listen when they speak — without expecting them to work for the benefit of your learning.
Learn: Read our recent statement highlighting AAUW's stand against racism and the Washington Post article by 2016–17 AAUW American Fellow alumnae Keisha Blain about the problematic history of policing in this country. AAUW will work to advance the systemic changes needed to create a fairer criminal justice system as a proud member of the Leadership Conference on Civil and Human Rights.
Speak Up: People of color often experience discrimination at the ballot box. This comes in the form of voting restrictions implemented under the guise of preventing "voter fraud," which is extremely rare. With a pivotal election ahead, persuading policymakers to expand voting rights is a powerful way to support marginalized communities. Other issues that disproportionately affect Black women and their families are student-loan debt, pay inequity and the lack of a livable minimum wage — all parts of AAUW's 2020 Gender Agenda you can take action on.
I'd also like to acknowledge that, as an organization, AAUW has its own work to do — and I'm committed to doing it. So I'll be listening, learning and speaking up right alongside you.
In solidarity and strength,
Kimberly Churches, Chief Executive Officer.


Racial Equity: WANT TO BE PART OF THE SOLUTION?

 
AAUW Press Statement: On behalf of our 170,000 members and supporters, we commit to fighting for justice, long-term and lasting change, and we stand in solidarity against racism. We also acknowledge that as an organization we have our own work to do.
Find information, resources, activities and more on the menu bar above:

"Diversity, Equity, and Inclusion" or directly on our

 Diversity, Equity, and Inclusion page here.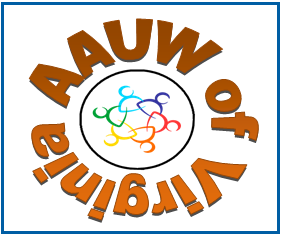 AAUW-VA ranks 4th in the nation in per capita giving to AAUW Funds.  See the latest Funds report plus the Names Honored from each branch HERE.


Members Make News! 
Denise Decker (Arlington Branch) and a colleague with the American Council of the Blind were interviewed by National  Public Radio in regard to audio description and inclusion of people who are blind or vision-impaired at movies and theater.  The interview aired on All Things Considered August 16.  Read the transcript or listen to the audio.
Always the teacher! Our own Neola Waller (Va. Beach Branch) was featured on Good Morning America.

The Southeast District announces fall meeting October 24 in Virgnia Beach.  See details and sign up to attend.

AAUW 2020 Vision: Marking a Momentous Year
Stay in touch with AAUW!  View a variety of engaging webinars HERE.
AAUW: STANDING STRONG THROUGH  CRISIS
AAUW has been at the cutting edge of fighting for economic equity for nearly 140 years. And what we're witnessing is how the pandemic is amplifying and exacerbating all of the nation's inequities.
The issues we've long been fighting for are now alarmingly urgent, and our efforts are needed now more than ever. READ MORE...



The program is designed to promote cohesion between AAUW national and affiliates and increase understanding and implementation of the strategic plan goals. National recognition allows AAUW National to acknowledge and celebrate affiliates that advance AAUW's mission.


Learn to negotiate your salary NOW! LEARN MORE HERE! 
Why does it matter?
The pay gap has lifelong financial effects that grow over time, from the ability to pay for education and childcare to saving for retirement, impacting women in nearly every profession. The Work Smart program teaches women at all stages of their career how to negotiate their pay, resulting in improved financial futures for themselves and their families.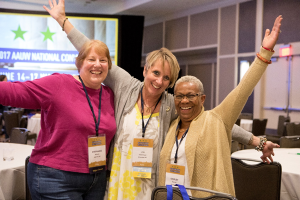 GREAT NEWS: Did you read the latest Mission & Action?  AAUW, in partnership with Coca-Cola, exceeded the goal of training 100,000 women to ask for the salary they deserve through Work Smart  online or in-person workshops!  During the process, 500 professional organizations, and state and local commissions were engaged. Now the program is being expanded through women.nyc, Starbucks Global, the city of Wichita and many others.Thank you to all AAUW members who participated!
Continue sharing with everyone you know! 
Print this WorkSmart flyer created by the Reston-Herndon Branch to post in your community for all to see!
Take the course yourself to be able to talk about it!

National Members!
We appreciate your membership and encourage you to attend upcoming events at an AAUW branch in your neighborhood. Click on Branches for information about a branch near you.